Aug 12 2022
2022-08
Semiconductors
Vishay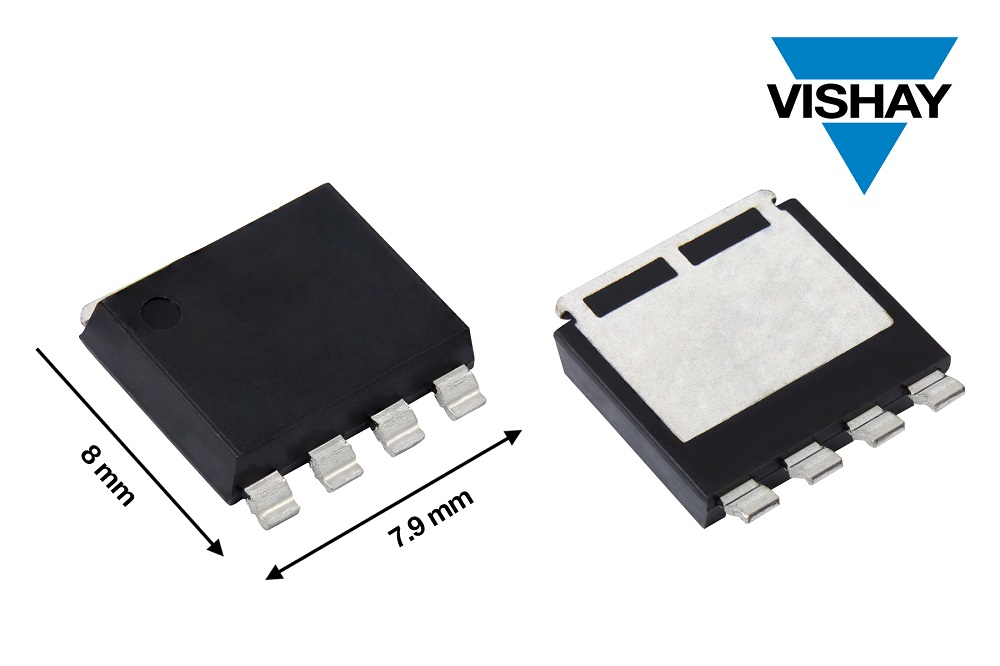 Vishay Intertechnology, Inc. announced the launch of two n-channel TrenchFET MOSFETs, the 60 V SiJH600E and 80 V SiJH800E, to improve power density, energy efficiency and board-level reliability for communications and industrial applications. To achieve design goals, the 60 V SiJH600E and 80 V SiJH800E feature ultra-low on-resistance, +175 C operating temperature and high continuous drain current. Space-Saving PowerPAK® 8x8L Package Features Wire-bonded Gull-Wing Lead Junctions
Vishay Intertechnology, Inc. announced the launch of two n-channel TrenchFET MOSFETs, the 60 V SiJH600E and 80 V SiJH800E, to improve power density, energy efficiency and board-level reliability for communications and industrial applications. To achieve design goals, the 60 V SiJH600E and 80 V SiJH800E feature ultra-low on-resistance, +175 C operating temperature and high continuous drain current. Space-Saving PowerPAK® 8x8L Package Features Wire-bonded Gull-Wing Lead Junctions
SiJH600E and SiJH800E ultra-low on-resistance—typically 0.65 m and 1.22 m, respectively, at 10 V—respectively 54 % and 52 % lower than comparable PowerPAK SO-8 packaged devices, reducing conduction power dissipation and enabling energy-efficient Effect.
To improve power density, the SiJH600E and SiJH800E have continuous drain currents of 373 A and 288 A, respectively, and the package footprint is 60 % smaller and the height is 57 % smaller than that of the D2PAK package. To save board space, each MOSFET can also be used to replace two PowerPAK SO-8 devices in parallel.
The Vishay Siliconix device operates up to +175 C with stable and reliable performance and is suitable for synchronous rectification in applications such as power supplies, motor drive control, battery management, and power tools. The devices are packaged in lead (Pb) free, halogen free, RoHS compliant, 100 % Rg and UIS tested.
The Products You May Be Interested In