Oct 8 2022
2022-10
Power
Qorvo US Inc.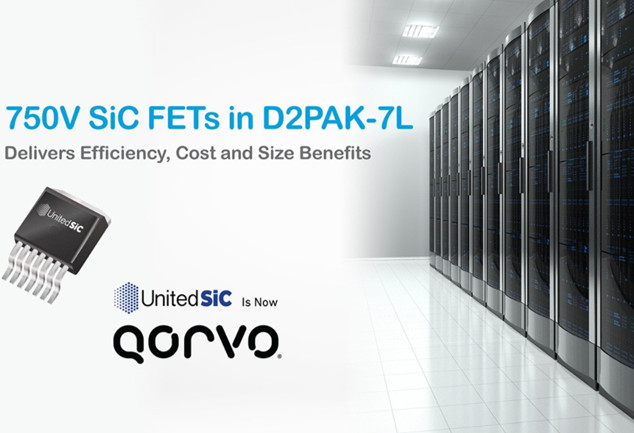 Qorvo, a leading provider of RF solutions for mobile, infrastructure and aerospace and defense applications, has announced the launch of seven 750V silicon carbide (SiC) FETs packaged in a table-sticker D2PAK-7L package.
Qorvo announced the launch of seven 750V silicon carbide (SiC) FETs packaged with surface mount D2PAK-7L. With this packaging scheme, Qorvo's SiC FET is tailored for the rapid growth of vehicle chargers, soft switching DC/DC converters, battery charging (fast DC and industrial) and IT/server power applications. They use thermal performance enhanced packaging to provide an ideal solution for high power consumption applications that require maximum efficiency, low conduction loss, and high cost performance.
At 650/750V, the RDS (on) of the fourth generation UJ4C/SC series is 9 milliohms (mohm), achieving a low level in the industry. The rated resistance of this series is 9, 11, 18, 23, 33, 44 and 60 milliohms. This wide selection provides engineers with more device options and supports greater flexibility to achieve an ideal cost/efficiency balance while maintaining rich design margins and circuit robustness. These devices use unique common source and common gate SiC FET technology. SiC JFET in normally open state and Si MOSFET are packaged together to generate SiC FET in normally closed state. These devices provide excellent RDS x A quality factor, which can minimize the conduction loss in small size bare chips.
Anup Bhalla, chief engineer of United SiC (now acquired by Qorvo), said: "The D2PAK-7L package can reduce the inductance in the compact internal connection circuit. In addition to the accompanying Kelvin source connection, it can achieve low switching loss, support higher operating frequency, and improve the power density of the system. In addition, these devices are mounted with silver sintered chips to maximize the heat removal from standard PCB and IMS substrates through liquid cooling, so the thermal resistance is very low."
The Products You May Be Interested In
2116
UNIVERSAL QI WIRELESS CHARGING M
191

More on Order

473
SWITCH PUSHBUTTON SPST-NO RED
350

More on Order

1298
SOIL TEMPERATURE/MOISTURE SENSOR
490

More on Order

385
SENSOR HUMID/TEMP 5V DTL 2% MOD
1471

More on Order

981
MAXSONAR RANGEFINDER LV-EZ3
368

More on Order

980
MAXSONAR RANGEFINDER LV-EZ2
159

More on Order

3827
5 ETAPE LIQUID LEVEL SENSOR + EX
469

More on Order

3245
THERMOCOUPLE TYPE-K GLASS BRAID
201

More on Order

586
WIRE STARTER PK EL ORN 2.5M-8.2'
410

More on Order

546
STARTER PACK EL WIRE WHITE 2.5M
370

More on Order

306
ADDRESS LED STRIP SERIAL RGB 5M
242

More on Order

2537
NEOPIXEL DIGITAL RGB LED STRIP -
412

More on Order

1050
ADDRESS LED MATRIX I2C YELLOW
465

More on Order

3851
LED STRIP WITH 32 LED/M - WHITE
225

More on Order

2351
ADDRESS LED DISCRETE SER WHITE
313

More on Order

2862
ADDRESS LED RING SERIAL RGBW
456

More on Order

1912
ADDRESS LED 14 SEG I2C BLUE
523

More on Order

2574
ADDRESS LED STRIP SERIAL RGB 1M
397

More on Order

1643
ADDRESS LED RING SERIAL RGB
2566

More on Order

1751
DISPL RETINA IPAD3/4 LG LP097QX1
282

More on Order

619
SMT RGB 5050 LED - 10 PACK
322

More on Order

1057
LASER DIODE LINE 650NM 10MM DIA
1756

More on Order

1054
LASER DIODE 650NM 5MW 10MM DIA
3945

More on Order

3522
ENAMELED COPPER MAGNET WIRE 11
1339

More on Order