Nov 15 2023
2023-11
Power
Transphorm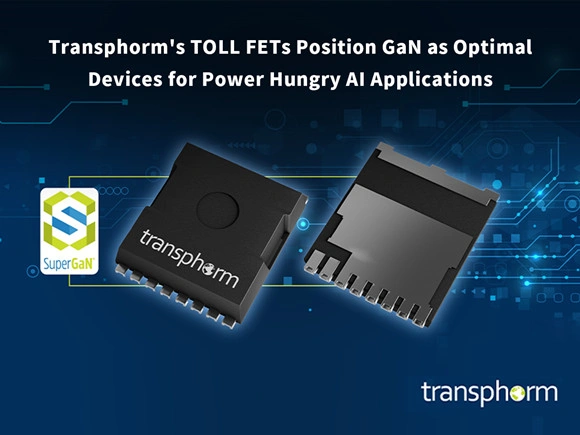 Transphorm introduces three SuperGaN FETs in TOLL packages that, like all Transphorm products, leverage the performance and reliability inherent in Transphorm's normally closed d-mode SuperGaN platform. It is the best solution for the rapidly developing artificial intelligence (AI) system.
Transphorm, a leading global supplier of gallium nitride (GaN) power semiconductors, announced the launch of three Toll-packaged SuperGaN FETs with on-resistance of 35, 50 and 72 milliohm. Transphorm's TOLL package configuration is industry standard, meaning the Toll-packaged SuperGaN power tube can be used as a direct replacement for any e-mode TOLL solution. The new device also has Transphorm's proven high voltage dynamic (switching) on-resistance reliability - a reliability that is lacking with mainstream contract e-mode gallium nitride on the market.
The three surface-mount devices (SMDS) support higher power applications with an average operating power range of 1 to 3 kW, where power systems are commonly used in high-performance areas such as computing (artificial intelligence, servers, telecommunications, data centers), energy and industrial (photovoltaic inverters, servo motors), and other broad industrial markets. Gallium nitride currently has a global addressable market size (TAM) of $2.5 billion in this market segment. Notably, the new power device is the best solution for today's rapidly evolving artificial intelligence (AI) systems, which rely on Gpus that consume 10 to 15 times more power than traditional cpus.
Transphorm's high-power gallium nitride devices are now being used by mainstream customers in a variety of high-performance sectors to power their high-performance systems, including data center power supplies, high-power esports Psus, UPS, and micro-inverters. The new TOLL package can also be used in DC-DC converters and on-board charger applications for electric vehicles, as the core SuperGaN chip is certified to the automotive industry (AEC-Q101) standard.
The SuperGaN FET in TOLL form is the sixth package type introduced by Transphorm, giving customers the widest range of package options to meet their diverse design needs. As with all Transphorm products, the TOLL package takes advantage of the performance and reliability inherent in the Transphorm normally closed d-mode SuperGaN platform. For a more detailed analysis of SuperGaN versus e-mode Gallium nitride, download Transphorm's latest white paper, "The Fundamental Benefits of Normally-off D-Mode Gallium Nitride Transistors." The technical white paper's conclusions are in line with a comparison report released by Transphorm earlier this year, which showed that a commercially available 280W esports laptop charger would perform better if it used a 72-milliohm SuperGaN FET as a direct substitute for the larger 50-milliohm e-mode device.
The Products You May Be Interested In
3844
4X4 MATRIX KEYPAD
398

More on Order

1193
SWITCH PUSHBUTTON SPST-NO GRN
253

More on Order

3487
SWITCH PUSH SPST-NO GRN 10MA 5V
406

More on Order

3290
SENSOR RTD 100OHM PROBE
2244

More on Order

1298
SOIL TEMPERATURE/MOISTURE SENSOR
490

More on Order

4019
US-100 ULTRASONIC DISTANCE SENSO
458

More on Order

377
ROTARY ENCODER MECHANICAL 24PPR
300

More on Order

409
ELECTROLUMINESCNT WIRE AQUA 2.5M
239

More on Order

2507
NEOPIXEL DIGITAL RGB LED STRIP -
254

More on Order

2537
NEOPIXEL DIGITAL RGB LED STRIP -
412

More on Order

2859
ADDRESS LED MODULE SERIAL RGBW
428

More on Order

2875
ADDRESS LED RING 1/4 SER RGBW
247

More on Order

2846
ADDRESS LED STRIP SERIAL RGBW 1M
386

More on Order

887
STRIP 60LED COOL WHITE WP 5M
254

More on Order

1694
DISPLAY 10.1"" 1280X800 IPS AUDIO
267

More on Order

3502
SHARP MEMORY DISPLAY BREAKOUT -
203

More on Order

911
2"" TFT DISPLAY 320 X 240
382

More on Order

338
LCD KIT NOKIA 5110/3310 MONOCHR
469

More on Order

4042
DIFFUSED RED AND GREEN INDICATOR
475

More on Order

314
LED RGB DIFFUSED 5MM ROUND T/H
451

More on Order

4164
FIBER OPTIC TUBE 5MM DIA 1M
510

More on Order

399
RGB BACKLIGHT NEGATIVE LCD
410

More on Order

1856
SMALL 1.2 8X8 BRIGHT SQUARE PURE
293

More on Order

1054
LASER DIODE 650NM 5MW 10MM DIA
3945

More on Order