Aug 17 2022
2022-08
Power
Texas Instruments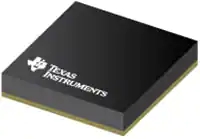 Texas Instruments' SimpleLink CC2652RSIP is a multi-protocol 2.4ghz wireless microcontroller (MCU) that is a system-level package (SiP) module. Support Thread, Zigbee®, Bluetooth® 5.2 low energy consumption (BLE), IEEE 802.15.4, ipv6-enabled Smart Objects (6LoWPAN), proprietary systems including the TI 15.4 stack (2.4 GHz), And concurrent multiple protocols through the Dynamic Multiple Protocol Manager (DMM) driver
Texas Instruments' SimpleLink CC2652RSIP is a multi-protocol 2.4 GHz wireless microcontroller (MCU) that is a System-in-Package (SiP) module that supports Thread, Zigbee®, Bluetooth® 5.2 Low Energy (BLE), IEEE 802.15.4, Enabled Smart Objects for IPv6 (6LoWPAN), proprietary system including TI's 15.4 protocol stack (2.4 GHz), and concurrent multiprotocol via Dynamic Multiprotocol Manager (DMM) drivers. Devices are optimized for low-power wireless communication and advanced sensing in building security systems, HVAC systems, medical, wired networking, portable electronics, home theater and entertainment, and connected peripherals markets.
The CC2652RSIP features a small 7 mm x 7 mm certified SiP module at 2.4 GHz with integrated DC/DC components, balun and crystal oscillator. It provides extensive protocol stack support flexibility in the SimpleLink CC13xx and CC26xx software development kits (SDKs). Wireless applications with longer battery life can run at a low 1 µA standby current with full RAM retention. The CC2652RSIP is suitable for industrial temperature and features an ultra-low standby current of 11 µA at +105°C. Programmable, autonomous ultra-low-power sensor controller CPU with fast wake-up enables advanced sensing. For example, a sensor controller is capable of 1 Hz ADC sampling with 1 µA system current. Low Soft Error Rate (SER) Instant Failure (FIT) ensures long life without disrupting industrial markets, and SRAM state parity is always on to prevent damage from potential radiation events.
A dedicated software-controlled radio controller (Arm Cortex-M0) provides flexible low-power RF transceiver functionality to support multiple physical layers and RF standards. This module provides excellent radio sensitivity and robustness (select and block) performance for Bluetooth LE (-103 dBm for 125 kbps LE encoded PHY).
The CC2652RSIP device is part of the SimpleLink MCU platform, which consists of Wi-Fi®, Bluetooth LE, Thread, Zigbee®, Sub-1 GHz MCUs, and host MCUs that share an easy-to-use common development environment and have a core Software Development Kit (SDK) and rich toolset. A one-time integration of the SimpleLink platform enables any combination of products to be incorporated into a design, enabling 100% code reuse as design requirements change.
The Products You May Be Interested In
1188
SWITCH PUSHBUTTON SPST-NO GRN
363

More on Order

2167
SENSOR CROSS-BEAM 250MM OPEN COL
102

More on Order

1293
SENSOR HUMID/TEMP 5V I2C 2% MOD
430

More on Order

1298
SOIL TEMPERATURE/MOISTURE SENSOR
490

More on Order

2384
MEDIUM VIBRATION SENSOR SWITCH
886

More on Order

CC265/4SAD200
RLY CONT 4P 200VACDC 2NO/2NC
117

More on Order

CC265/4SA500
RLY CONT 4P 500V 50/60HZ 2NO/2NC
283

More on Order

CC265SA500
RLY CONT 3P 500V 50/60HZ 2NO/2NC
415

More on Order

CC265SAD100/200
3P CONT S 100/200 VACDC 2NO2NC
304

More on Order

416
ELECTROLUMINESC STRIP 100CM WHT
231

More on Order

1614
ADDRESS LED MATRIX I2C WHITE
366

More on Order

3636
ADDRESS LED STRIP 1M
336

More on Order

2874
ADDRESS LED RING 1/4 SER RGBW
528

More on Order

1376
ADDRESS LED STRIP SERIAL RGB 5M
402

More on Order

2437
ADDRESS LED STRIP WARM WHITE 1M
284

More on Order

902
ADDRESS LED MATRIX I2C RED/GRN
410

More on Order

2860
ADDRESS LED MODULE SERIAL RGBW
317

More on Order

4167
FIBER OPTIC LIGHT SOURCE 1W BLU
235

More on Order

250
LCD ST7565 GRAPH 128X64 RGB BKLT
213

More on Order

3502
SHARP MEMORY DISPLAY BREAKOUT -
203

More on Order

338
LCD KIT NOKIA 5110/3310 MONOCHR
469

More on Order

315
LED RGB DIFF 5MM RND T/H 1=25PC
425

More on Order

3627
LCD DISPLAY LCD LIGHT VALVE
269

More on Order

865
RED 7-SEGMENT CLOCK DISPLAY
459

More on Order