Dec 27 2022
2022-12
Semiconductors
Sensirion AG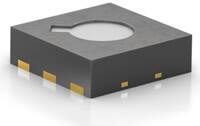 The SGP30 is a digital multi-pixel gas sensor designed for easy integration into air purifiers, demand-controlled ventilation and Internet of Things applications. Based on a multi-pixel platform, the SGP30 integrates four gas sensing elements into a very small 2.45 x 2.45 x 0.9 mm DFN package with a fully calibrated air quality output signal
Senrion's SGP30 is a digital multi pixel gas sensor designed to be easily integrated into air purifiers, demand controlled ventilation and Internet of Things applications. Based on a multi pixel platform, the SGP30 integrates four gas sensing elements into a very small 2.45 x 2.45 x 0.9 mm DFN package with a fully calibrated air quality output signal.
As a long-term stable metal oxide gas sensor, SGP30 has multiple sensing elements on one chip, which can provide more detailed air quality information. Total volatile organic compounds (TVOC) refer to the total concentration of volatile organic compounds in the air. The concept of TVOC is used as a practical and cost-effective method to measure indoor environmental pollution.
The SEK-SGP30 evaluation board allows users to test various Sensirion products, including SGP30 gas sensors and SHTC1, SHTW2, and SGT31 humidity and temperature sensing products. This assessment kit provides users with the necessary options and tools to quickly start and run their designs.
The Products You May Be Interested In