Oct 8 2022
2022-10
Power
Laird-Signal Integrity Products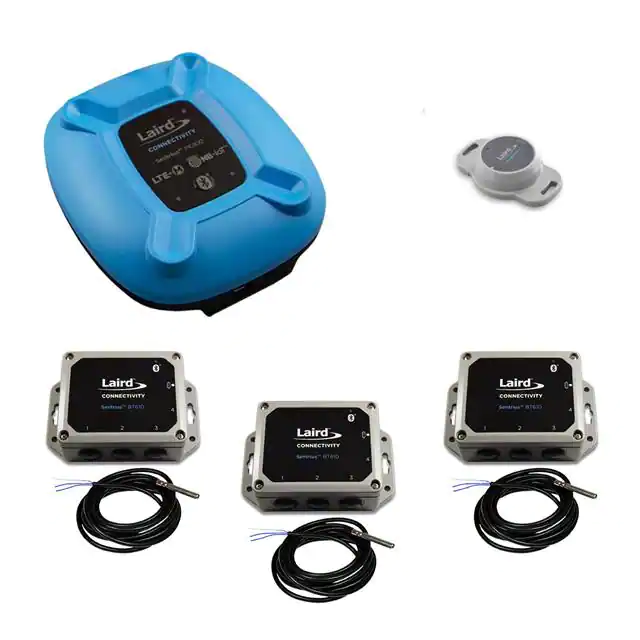 Laird Connectivity's Sentrius MG100/BT510/BT610 Cumulocity IoT suite. The suite includes a variety of mature wireless sensors and sends data from these sensors to the cloud over a global low-power cellular network connection (LTE-M or NB-IoT).
Sentrius MG100/BT510/BT610 Cumulosity IoT suite from Laird Connectivity. The suite contains a number of mature wireless sensors, and the data obtained by these sensors can be sent to the cloud through the global low-power cellular network connection (LTE-M or NB IoT).
Laird Connectivity Sentrius MG100/BT510/BT610 Cumulosity IoT kit with Laird Connectivity Pinnacle ™ 100 modem and Sentrius MG100 gateway as the core, and combines the advantages of Bluetooth 5 technology and low-power cellular LTE connection. This fully integrated single solution obtains data through sensors supporting Bluetooth 5, and then seamlessly transmits it to the industry famous Software AG Cumulosity IoT telemetry platform (60 days free trial). Cumulity IoT can provide rapid remote asset visualization and control for asset tracking, cold chain monitoring, intelligent buildings or industrial Internet of Things (IIoT) systems without software development.

The kit is equipped with two mature sensor systems: Sentrius BT510 and Sentrius BT610. Among them, Sentrius BT510 is a multi-sensor platform, which combines four sensing functions of temperature, switch, motion and impact, as well as multiple Bluetooth 5 functions such as long-distance transmission (encoding PHY), security function and low-power Bluetooth beacon. The module integrates the Laird Connectivity BL654 series long-distance transmission module that has been used maturely and the Nordic Semiconductor nRF52840 SoC, which has powerful processing capacity and integrated 1MB flash memory, and can realize applications with rich functions through development.

The Sentrius BT610 sensor can transform the wired sensor into a battery powered wireless node with IP67 protection level, and provide a powerful and safe information transmission function. The sensor is also equipped with BL654 series modules, so it can provide complete Bluetooth 5 functions, including LE encoding PHY. Sentrius BT610 is an ideal choice for the Internet of Things in harsh environments, because in such a scenario, the normal operation of the system cannot be separated from reliable wireless connections.
The Products You May Be Interested In
917
RUGGED METAL ON/OFF SWITCH
361

More on Order

916
SWITCH PB 16MM RED LED
132

More on Order

1190
SWITCH PUSHBUTTON SPST-NO RED
445

More on Order

3491
SWITCH PUSH SPST-NO WHT 10MA 5V
682

More on Order

4058
SENSOR OPTICAL 5-4000CM I2C/PWM
312

More on Order

4081
FLAT VIBRATION SWITCH - BREADBOA
363

More on Order

627
STARTER PK EL PANEL 10X10CM AQUA
186

More on Order

584
WIRE STARTER PK EL GRN 2.5M-8.2'
472

More on Order

306
ADDRESS LED STRIP SERIAL RGB 5M
242

More on Order

2507
NEOPIXEL DIGITAL RGB LED STRIP -
254

More on Order

1911
ADDRESS LED 14 SEG I2C RED
291

More on Order

872
ADDRESS LED MATRIX I2C GREEN
293

More on Order

902
ADDRESS LED MATRIX I2C RED/GRN
410

More on Order

2855
ADDRESS LED RING SERIAL RGBW
561

More on Order

2853
ADDRESS LED RING SERIAL RGBW
360

More on Order

1586
ADDRESS LED RING SERIAL RGB
475

More on Order

2524
3W-9W RGB LED - COMMON ANODE
291

More on Order

314
LED RGB DIFFUSED 5MM ROUND T/H
451

More on Order

1857
SMALL 1.2 8X8 ULTRA BRIGHT SQUAR
155

More on Order

1855
SMALL 1.2 8X8 ULTRA BRIGHT SQUAR
283

More on Order

2277
64X32 RGB LED MATRIX - 5MM PITCH
426

More on Order

2276
64X32 RGB LED MATRIX - 6MM PITCH
419

More on Order

1057
LASER DIODE LINE 650NM 10MM DIA
1756

More on Order

1907
DUAL ALPHANUMERIC DISPLAY - RED
152

More on Order