Oct 8 2022
2022-10
Power
EPC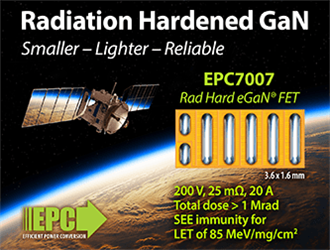 EPC Power Conversion Corporation (EPC) has expanded its line of radiation-resistant gallium nitride products with a new 200 V product offering ultra-low on-resistance and miniaturization for use as a power conversion solution in demanding airborne and other high-reliability environments.
EPC Company announced the launch of 200 V, 25 m Ω, 80 APulsed radiation resistant GaN FET EPC7007. The size is as small as 5.76 mm2, the total dose level is greater than 1 Mrad, and the single event effect (SEE) immunity of linear energy transfer (LET) is 85 MeV/(mg/cm2). Same as commercial eGaN FET and IC series, it adopts chip level package. Packaging devices will be provided by EPC Space.

Compared with the equivalent radiation resistant silicon device with the same conduction resistance, the QG and QGD of the EPC7007 are 40 times smaller, and the zero reverse recovery (QRR) and size are 40 times smaller. With higher breakdown strength, lower gate charge, lower switching loss, superior thermal conductivity and ultra-low on resistance, gallium nitride power devices are significantly superior to silicon based devices, which can achieve higher switching frequency. For demanding aerospace missions, gallium nitride power devices can achieve higher power density, higher efficiency, smaller and lighter circuits. Compared with silicon solutions, solutions based on GaN devices can work at higher total radiation, SEE and LET levels.

The high-performance applications that benefit from the EPC7007 include DC/DC power supply, motor drive, laser radar, deep exploration and ion thrusters for aerospace applications, satellites and avionics.

Alex Lidow, CEO and co-founder of EPC Company, said: "EPC's gallium nitride technology can realize a new generation of power conversion and motor drive in aerospace applications. It has higher operating frequency, higher efficiency and higher power density, which is impossible to achieve before. EPC7007 expands the voltage range of our radiation resistant product series to 200 V. Compared with silicon solutions, EPC7007 provides designers with much smaller and lower cost solutions."
The Products You May Be Interested In
2116
UNIVERSAL QI WIRELESS CHARGING M
191

More on Order

2114
UNIVERSAL QI WIRELESS CHARGING M
276

More on Order

1824
SWITCH KEYPAD 12 KEY NON-ILLUM
406

More on Order

3432
SWITCH PUSH SPST-NO BLU 10MA 5V
577

More on Order

381
WATERPROOF DS18B20 DIGITAL TEMPE
1191

More on Order

3686
SENSOR AIR QUALITY
427

More on Order

623
PANEL ELECTROLUM EL 10X10CM AQUA
140

More on Order

2435
DOTSTAR LED STRIP - ADDRESSABLE
455

More on Order

2832
ADDRESS LED STRIP SERIAL RGBW 5M
222

More on Order

1558
ADDRESS LED MODULE SER RGB 1=25
319

More on Order

2854
ADDRESS LED RING SERIAL RGBW
286

More on Order

2953
ADDRESS LED STRIP SERIAL RGB 1M
458

More on Order

420
ADDRESS LED MATRIX RGB
487

More on Order

1586
ADDRESS LED RING SERIAL RGB
475

More on Order

1426
ADDRESS LED MODULE SERIAL RGB
1447

More on Order

2530
3W RGB LED - COMMON ANODE
238

More on Order

3862
FLEXIBLE SILICONE NEON-LIKE LED
339

More on Order

1726
DISPL HDMI 4 PI 7"" 1280X800 IPS
159

More on Order

2397
7"" TFT DISPLAY 1024 X 600
138

More on Order

2674
MONOCHROME 2.7 128X64 OLED GRAPH
254

More on Order

2088
DISPLAY TFT 1.44 COLOR MICROSD
306

More on Order

2948
LED CHARLIEPLEXED MATRIX - 9X16
416

More on Order

1054
LASER DIODE 650NM 5MW 10MM DIA
3945

More on Order

1001
WHITE 7-SEGMENT CLOCK DISPLAY
2509

More on Order